B683 Extrait
Preferred by Men / Unisex
Top Notes: Black pepper, Chilli, Nutmeg, Saffron
Heart Notes: Musk, Cistus, Vanilla tincture, Violet leaf, Amber
Base Notes: Ambroxan, Patchouli, Oud, Oak moss, Sandalwood
Inspiration
B683 is now available as an extrait. If this fragrance were a man, it would materialise as Cary Grant. The huge popularity and success of this beautiful scent has encouraged Barrois and perfumer Quentin Bisch to create a very intense and sensual parfum strength of B683. Rich, dark and as smooth as velvet, this exceedingly tenacious and seductive fragrance is made up to a very powerful 40% concentration for maximum effect and irresistible sillage.
The original formula has been re-orchestrated with oud to give extra depth and effect. Whether in eau de parfum or in extrait strength, B683 is a creation which defines supreme elegance and savoirfaire for the modern generation.
Delivery
Standard UK Delivery - £3.95. Orders will be delivered within 3 to 5 working days.
Royal Mail Tracked 24 - £5.50
Royal Mail Special Delivery Guaranteed 4pm - £7.00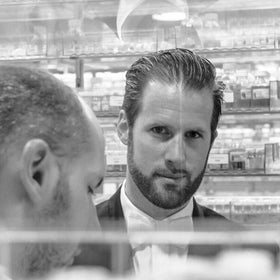 Ten years after creating his own Haute Couture brand, French couturier, Marc-Antoine Barrois launched his very first perfume, B683. Building on the timeless and charismatic elegance of his mentors, B683 is a complex heady fragrance, triggering memories past but simultaneously firmly rooted in the world of his world of contemporary designs.
Ultimately, B863 is an invitation to explore; to travel on his planet where bespoke unique pieces, jewels and accessories meet poetry, dreams with arts and crafts in perfect harmony.
Building on this early success Maison Marc-Antoine Barrois continued to delight the fragrance world with his second creation - Ganymede.   Emancipated from traditional rules, Ganymede is a celebration of luminous and fluid elegance.  Light and dark with an almost addictive quality, Ganymede's soft leather tones pull you into a world of sophisticated sensuality.
Having truly demonstrated his creative skills Maison Marc-Antoine continues to build his collection with the launch of B683 Extrait and his stunning latest creation: Encelade.
We think you might also like…